Orange is the new fit
Let's Create A
Fitter World
Ever since 2014, Orangefit has been shaking up the world of shakes with future-proof plant-based formulas that make healthy living fun.
Orangefit is completely plant-based. We use ingredients your body responds well to and benefits from. We always go the extra mile to perfect flavours and formulas, even if it takes a year. Orangefit has your best interests at heart. Here, you don't have to check labels.
Every day we examine what could be improved. We are committed to doing our best, just like you. Orangefit has grown into a community of like-minded folks. That's very valuable. We can all learn from each other, and we'd love to hear from you if you have any thoughts.
Foods with benefits
Orangefit is that friend who is always there for you
We take your health seriously and always go to the extremes to guarantee you the best quality and service. Our products are regularly tipped by dieticians, nutritionists and even doctors. With our brand, we want to show today's and future generations how to be at your best. And honestly, more plant-based means more happiness for the planet too.
Create A Fitter World
Fitter World
Healthy & Pure

Keeping body and mind healthy is our number one priority. We are pure. We are clear. We are there for you. We are pure plant power.

Honesty & Convenience

We never make promises we may not be able to keep. We always listen to your needs.

Affordable & Premium

We select quality ingredients and production methods. And we rethink our impact on the planet. Orangefit wants to offer plant-based products affordable for everyone.
"Our values guide us"
Rens Slik - Founder & CEO
"Back in the day, when we started, we were just two guys with the plan to change the protein game."
Other brands were all about the gym, we have focused on lifestyle from day one. Create A Fitter World.
The market was still traditional. Animal-based whey was the dominant ingredient and all protein shakes were just like milkshakes: loaded with milk and sweeteners. This was a shame, as many people didn't respond well to these substances. This resulted in stomach cramps, skin problems and other complaints.
Shown in photo: Founder Rens Slik (right) & Co-Founder Max Blaauboer.
"The world was grey as it was, it was time for some more orange!"
There were no good substitutes, even for those who sought to make animal-friendly, sustainable choices. In fact, the only vegan shakes out there were no treat for your taste buds.
We wanted to do better, prove it could be done: a plant-based protein shake, without all the nasty additives. Creamy textured just right and with a fresh, energetic look. We went all out.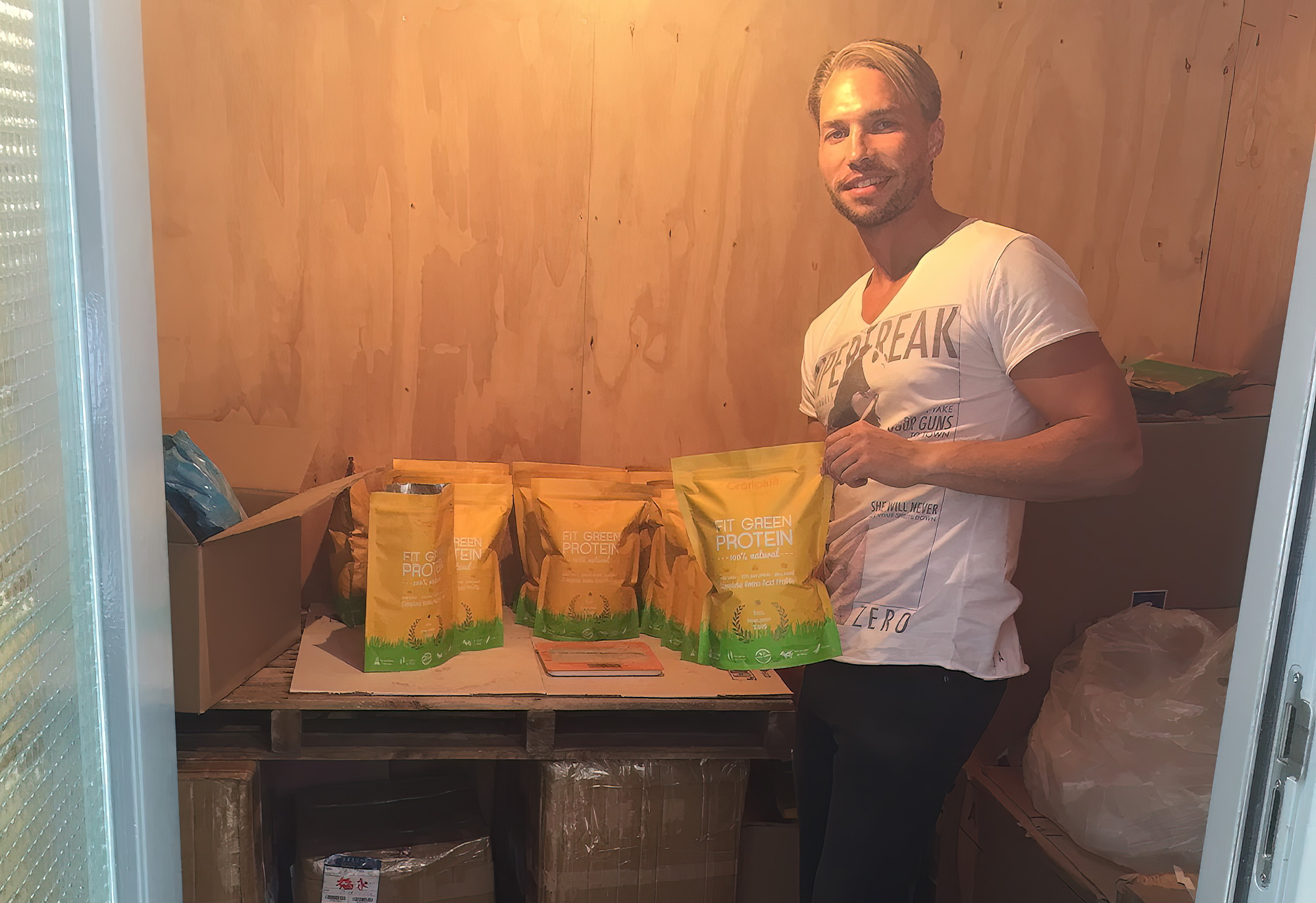 The very first batch of Orangefit Protein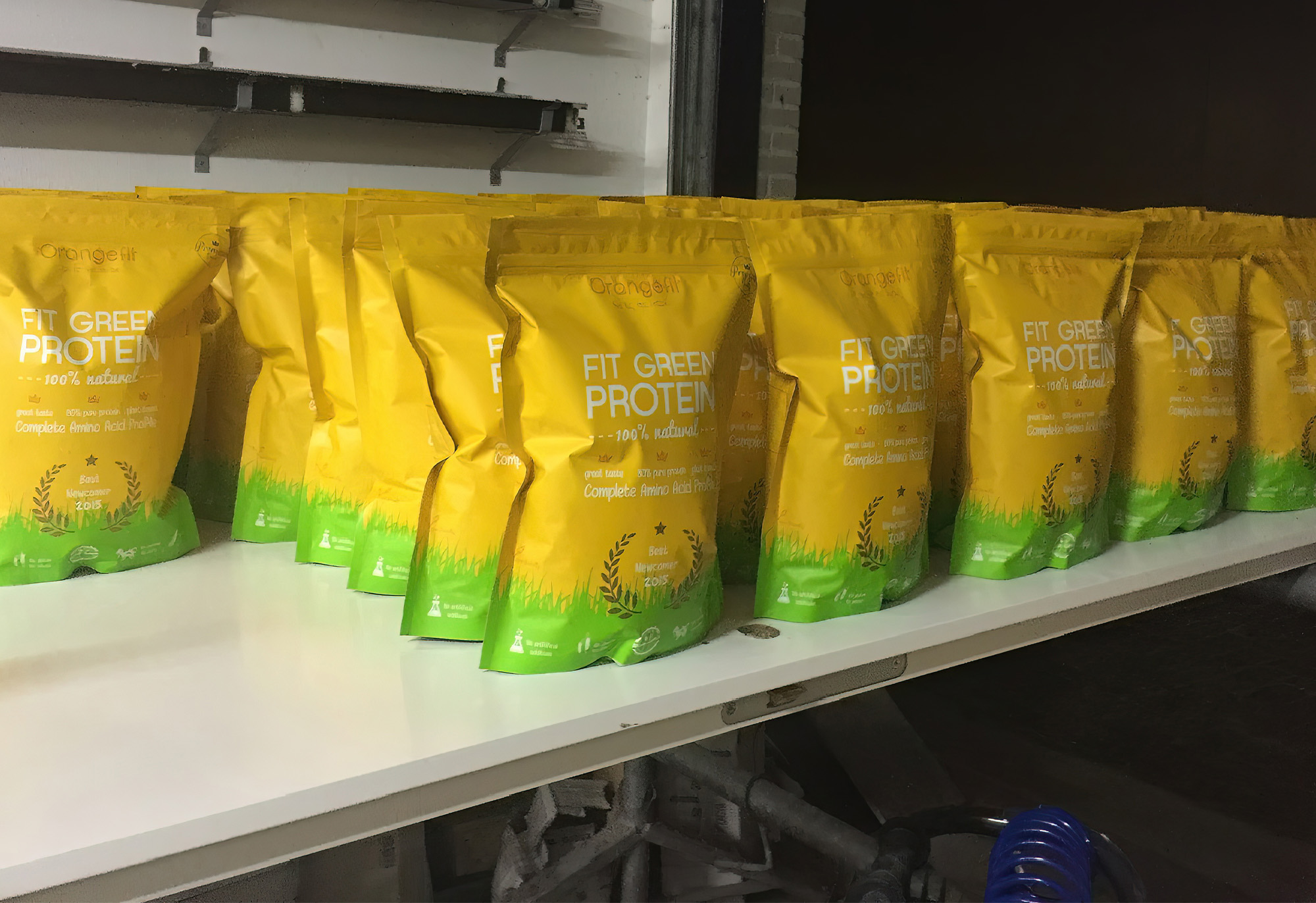 There was little Orange about it :) But a start was made.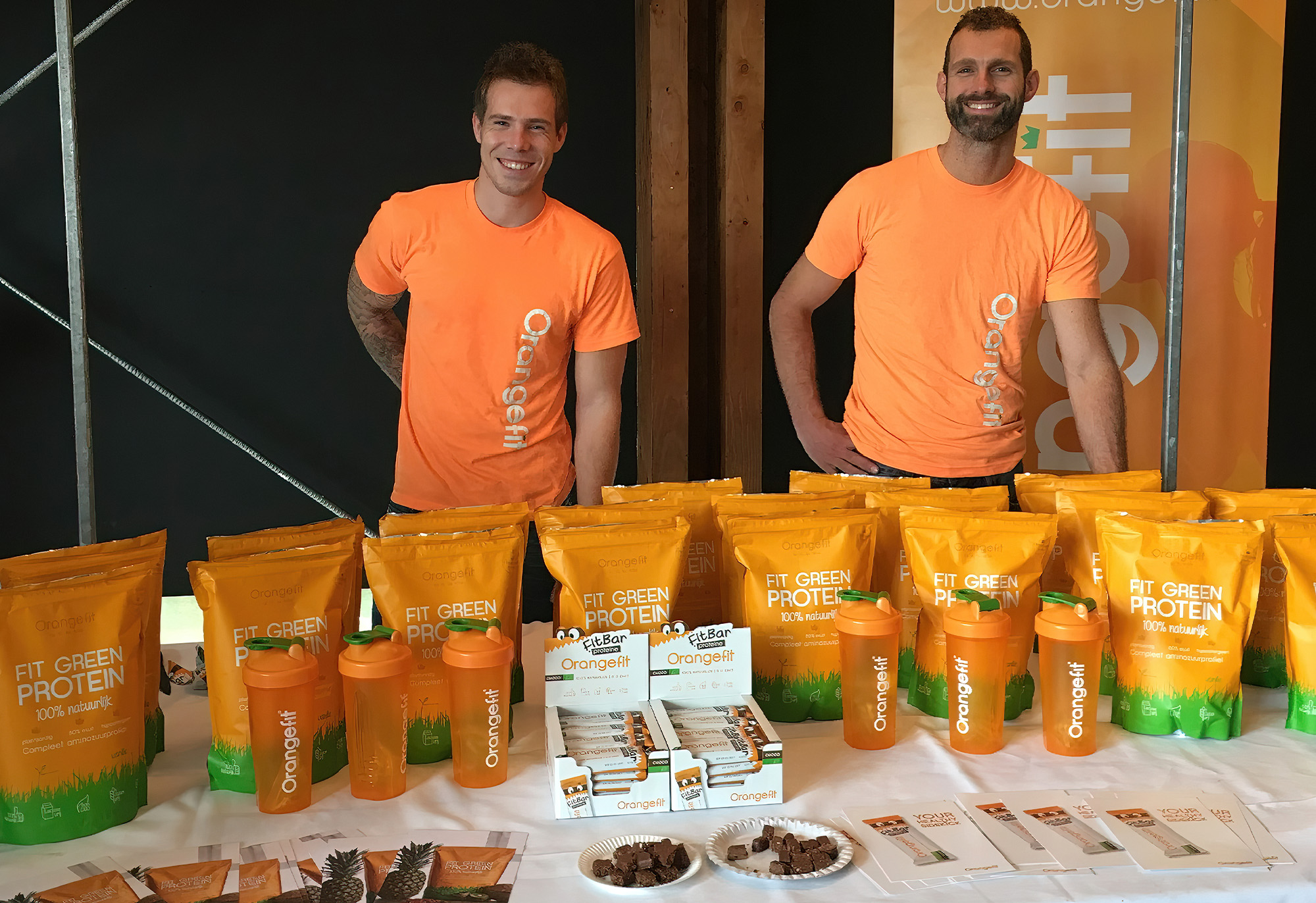 Proudly presenting our products to the masses
Lots of overtime, dozens of test samples and hundreds of scoops further, the first bag of Orangefit protein stood in front of us. The taste wasn't perfect yet, but we had pulled it off. We were one of the first to launch a plant-based protein shake and we are still the only European brand with a 100% plant-based range.
From vegan shake to shaking the world
Here to brighten up your day
Today, we help thousands of people with our plant-based products. From vegan-friendly protein shakes to a complete vegan-friendly range, Orangefit serves the entire plant-based lifestyle. What's more, the group that won't settle for animal or unsustainable products is growing by the day.
Orangefit wants to be a solution for everyone who wants to make the most of life. Here, you don't just buy a product. We are the portable fitness coach in your pocket. From a free consultation with an Orangefit expert, nutritional advice and recipes to weekly blog articles, our guidance is a perk for you and a no-brainer for us.
Whether you're 20 or 80, an athlete, circus performer or just otherwise keeping all the balls in the air. We believe everyone deserves a healthy and green alternative. A fit lifestyle is a fit planet.
Fully recyclable
Our packaging might be composed of plastic, but it is 100% recyclable. The first of its kind across Europe. Our recyclable bags take up less space than large jars. Did you know that one load holds 20,000 bags, as compared to 500 cans? That saves us a bunch of trips.
And this is just the beginning. Behind the scenes, we are working on further improving our sustainability every day.
Next level
Orangefit aims to be the number one household brand globally for sustainable, plant-based shakes.
We will continue to do everything we can to develop the best, healthiest and most sustainable plant-based products that make Orangefitters' lives better and easier.
Now that we are conquering the European plant-based nutrition market, we are gaining opportunities to improve our process and our chain even more.
The one thing that will never change is our personal approach. You are our priority and we keep improving ourselves to inspire you to be the best you can be.
Let's Create A Fitter World!
Customer Service
How can we help you?
Phone

Mo - Fr from 8:30 am to 5:00 pm (+3172-5822351)