New
Protein Shakes
Feel fit and strong with our tasty protein shakes
Try first?

Go ahead! We have a Protein Pack especially for starters
All the benefits of protein
Feel fit and strong with our protein shakes
Our protein shakes will help you to feel fit. We're talking to you gym teachers, gamers, athletes and everyone in between. Our shakes are made with natural, plant-based protein. Vegan-friendly is better for our mama earth and yummie as well. We'd love to tell you more about it.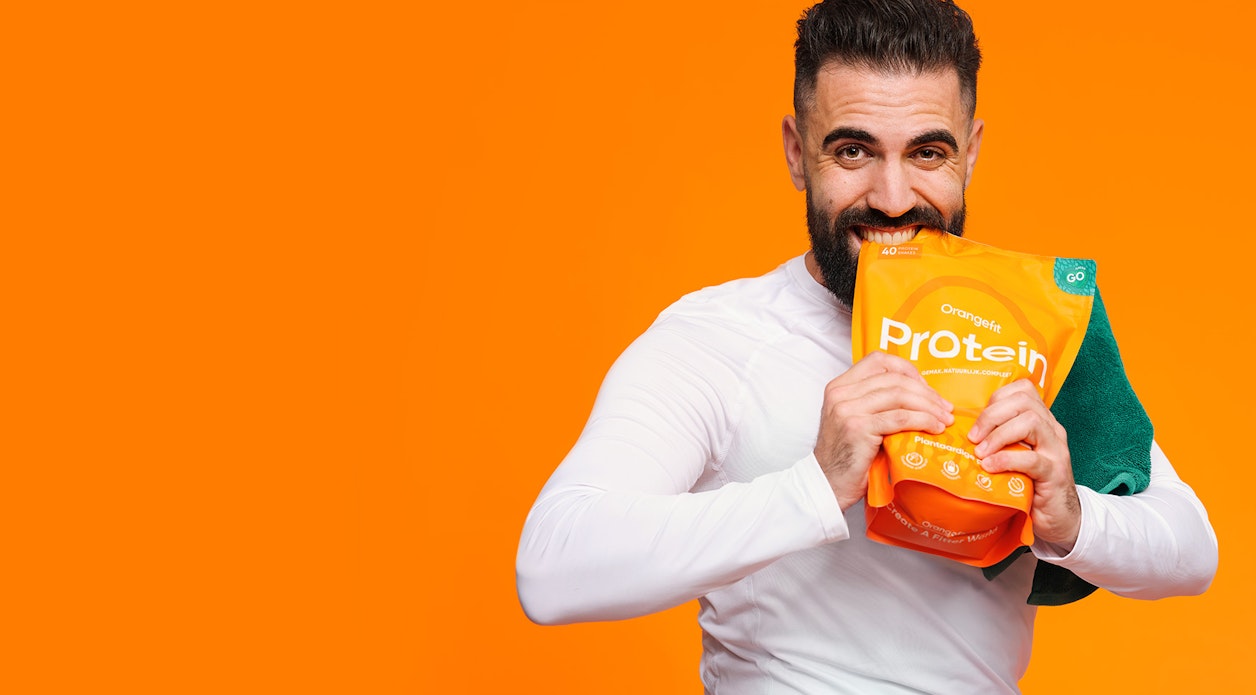 Easy. Natural. Complete.
FAQ
Frequently asked questions about our protein shakes
Proteins are important building blocks for your body. They stimulate muscle growth and retention and boost your energy. A shake offers an easy way to up your daily protein intake. Add water, a scoop of protein powder, shake it and you're done. You can also add a scoop to your yoghurt, smoothies or baking dishes. Need some inspiration? Check out our recipes.

15 to 20% of your body is made up of proteins. Your body-weight, age and how active you are, determine how much protein you need. A good rule of thumb is: 0,8 protein per kilo of body-weight per day. Do you workout a lot, follow a vegetarian or vegan diet or carrying a bun in the oven? You might need some more protein.

Do you exercise regularly, are you vegetarian, vegan or pregnant? Then you need a little extra. See the table below.

Recommended amount of protein per day per group
Special groups
In grams per kilogram
Pregnancy
0,9
Exercise regularly
1,5
Vegetarian / Vegan
1,3

Breastfeeding

1

Boys & Men

0 to 2
months
1,8
3 to 5
months
1,4
6 to 11
months
1,2
4 to 8 years
0,9
9 to 13 years
0,9
14 to 18 years
0,8
19 to 30 years
0,8
31 to 50 years
0,8
51 to 70 years
0,8
> 70 years
0,8
Girls & Women
0 to 2 months
1,8
3 to 5 months
1,4
6 to 11
months
1,2
1 to 3 years
0,9
4 to 8 years
0,9
9 to 13 years
0,9
14 to 18 years
0,8
19 to 30 years
0,8
31 to 50 years
0,8
51 to 70 years
0,8
> 70 years
0,8
A whey shake might sound familiar. This is a shake based on cow milk. Plant-based shakes usually contain pea, rice or other of plant-based protein sources. For Orangefit Protein we chose pea protein, because of its fine structure and taste. On top of that, our Blend contains faba bean and pumpkin protein. These 3 protein sources joined forces to create a unparalleled amino acids profile. We've coined them the golden trio, and you'll get why. A plant-based protein shake is vegan and is therefore free of animal ingredients like lactose.
Yes, a great one actually. Many people experience lactose- or other intolerances. Whey can cause all kinds of side-effects. With Orangefit Protein and Orangefit Blend you don't have to worry about all that. Pea protein is a complete source of protein with a similar restorative effect. We gladly refer to this study: 'Pea protein vs. whey'.
Gym enthusiasts tend to take a protein shake after their workout, to boost muscle building and recovery. That's fine, however, research points out that this time is not imperative for its function. Your body keeps on producing proteins throughout the day at the same, steady pace. First, your body uses the proteins you get from protein rich foods. Your body processed those into amino acids; essential building blocks. It ís important to ensure your total protein intake is sufficient. Our advice: take a protein shake whenever it suits you best, as long as you're getting enough.
We'd rather not see you doing that. Proteins play an important role in losing weight, but we'd recommend our complete weight-loss shake. This shake is designed with the weightloss goal in mind. In the process of dropping some pounds, it's important to make sure you're creating a temporary calorie deficiency. That's where the Diet shake comes into play. You can use it to replace 1 or 2 meals and it contains all the good stuff, like proteins, fibers, vitamines and minerals. Orangefit Protein or Orangefit Blend doesn't contain enough calories and other nutrients to replace a meal with.
Yes, all our products are vegan friendly, Orangefit Protein and Protein Blend included.
Soy beans, quinoa, hemp seeds, chia seeds, spirulina and legumes are all complete sources of protein. Whole wheat products and nuts also contains a lot of plant protein. In animal products you can find protein in meat, fish, egg and dairy.